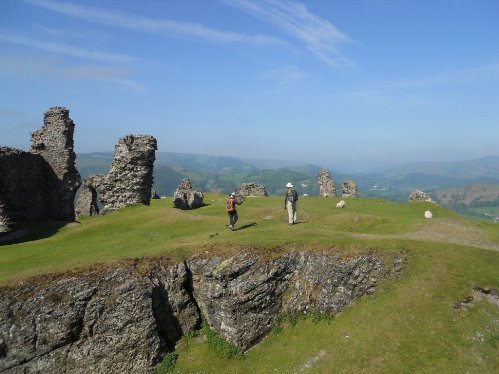 We will be hiking the northern half of the trail, starting at the resort town of Prestatyn on the Irish Sea, and hiking south for 96 miles to the market town of Knighton. Each mile is a scenic delight as we pass through quaint villages, centuries-old farms, the ruins of ancient castles and abbeys, deep forests, heath and heather, and the Shropshire and Clwydian Hills. Picture Tolkien's Middle Earth. Along the way are cozy pubs where we can slake our thirst with local ale or cider. Each night we will stay at a local hotel, inn or b&b for a delicious dinner and a good night's rest. Some of the days are rather long with climbs up hill and down, but the rewards are splendid! This trek is rated "strenuous" but is easily within the capabilities of experienced, fit hikers. Luggage is forwarded each day to the next inn or b&b, so a day pack is all that is required to carry while hiking. Hikers have the option of travelling with the luggage at their expense to the next lodging if they choose to have a rest day.
Our group meets in Manchester, England. We will meet you at the airport and bring you to our hotel in Manchester.
Day 1: Arrive in Manchester.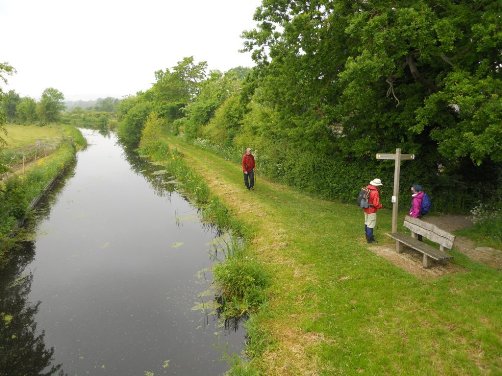 Meet at hotel for trip briefing, overnight accommodations. Optional excursions in the city.
Day 2: Train to Prestatyn with inn lodging. Explore the charms of Prestatyn, an old-fashioned resort on the Irish Sea, including the recently discovered Roman baths.
Day 3: Prestatyn to Bodfari, 12 miles. Our journey begins with a climb to fine views of the Irish Sea, Snowdonia, and the Clwydian Hills. Inn accommodations. Meals provided: B, L.
Day 4: Bodfari to Clwyd Gate, 11 miles. A more challenging day of ups and downs over the whale-backed Clwydian Hills with views to the English city of Liverpool. Inn accommodations. Meals provided: B, L.
Day 5: Clwyd Gate to Llangollen, 13 miles. We continue hiking through the Clwydian Hills before entering the dense Llandegla Forest. We visit the exquisite ruins of Valle Crucis Abbey, then follow the canal towpath to the delightful small town of Llangollen. Inn accommodations. Meals provided: B, L.
Day 6: Llangollen to Sellatyn, 12 miles. We ascend to the atmospheric ruins of Castell Dinas Bran, then pass through the enchanted Trevor Hall Wood where one can imagine meeting hobbits and dragons. Our route takes us to one of the highlights of the entire Offa's Dyke Path, the Pontcysyllte Aquaduct, constructed to carry canal boats across the river valley far below. The towpath for the aquaduct is our trail for over 1000 feet. We pass beautiful Chirk Castle, soon arriving at the peaceful village of Sellatyn. B&B accommodations. Meals provided: B, L, D.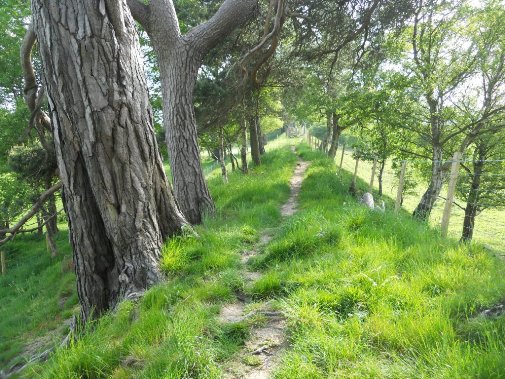 Day 7: Sellatyn to Llanymynech, 12 miles. The path follows an historic canal towpath. Remnants of Offa's Dyke are frequently encountered before we climb Llanymynech Hill with superb views of the Severn Plain and Breidden Hills. Inn accommodations. Meals provided: B, L.
Day 8: Llanymynech to Welshpool, 11 miles. Our easiest day with flat terrain as our path continues along the canal towpath before traversing farmland. Our reward is a rest day in pleasant Welshpool. Inn accommodations. Meals provided: B, L.
Day 9: Welshpool. A rest day with opportunities to visit shops, bookstores and local pubs. We will also visit the spectacular 12th-century Powis Castle and its world-famous gardens. Inn accommodations. Meal provided: B.
Day 10: Welshpool to Cwm, 13 miles. After a climb to Beacon Ring, an iron-age hill fort, we traverse scenic lowland meadows and farmlands before crossing the Plain of Montgomery and the tranquil River Camlad. Inn accommodations. Meals provided: B, L.
Day 11: Cwm to Knighton, 12 miles. Our most strenuous hiking day as we climb up and over the Shropshire Hills with excellent views. Exhilirating hiking over Llanfair Hill alongside the Dyke before arriving at our charming final destination, Knighton. Inn accommodations. Meals provided: B, L.
Day 12: Return to Manchester via train. Hotel accommodations in Manchester. Meals provided: B.
Day 13: Return home.
Daily itinerary subject to change.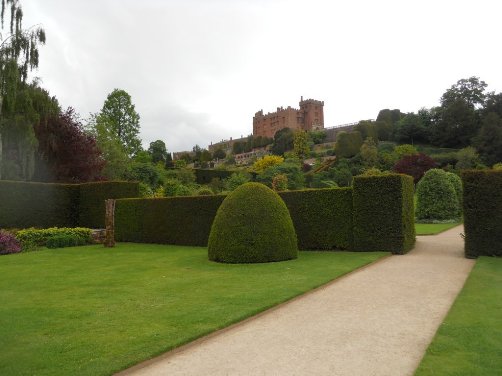 All lodging (double occupancy) and meals as stated in the itinerary. Single supplement may be added if single accommodations are requested and available.
Round-trip rail transport between Manchester and Offa's Dyke.
Group taxi fares.
Luggage transfer during the trek.
Entry fee to Valle Crucis Abbey, Powis Castle.
Guide services.
travel insurance / trip cancellation insurance
flights to and from Manchester
personal gear (see equipment list)
private excursions
meals not listed above
alcoholic beverages
Click on an image for a larger view.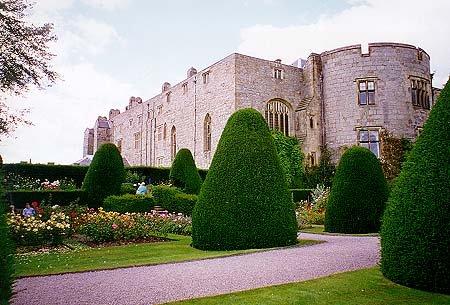 Hotel/Inn: 11 nights. Private baths.
B&B: 1 night. Mostly private baths, some shared.